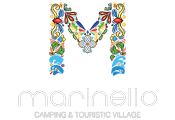 Upon arrival, campers must hand over their identity documents for registration.
The Camping stay rates range from arrival until 12:00 the following day. Village stay rates range from 4:00 pm to 10:00 am the following day. After these times, another day will be charged.
Guests must occupy the place indicated to them by the management. No movement without authorization is allowed.
Guests who use the pitch must park their car in it to have it included in the rate. Guests in the areas reserved for tents must park their car in the appropriate parking lots. The occupied seat must be kept and left clean upon departure.
Each guest is required to keep their belongings, the management is not responsible for any theft.
The speed of vehicles inside the campsite must not exceed 5 km per hour.
The entrance gate for vehicles is open from 7:00 to 23:30. After this time, vehicles can be parked in the parking lots in front of the reception.
From 14:00 to 16:00 and from 24:00 to 7:00 silence is prescribed. At these times, noises or other noises that could disturb the rest are allowed. It is therefore forbidden to circulate inside with cars, motorcycles, bicycles, campers, mopeds. It will not be allowed to play football, bowls, table tennis or anything else that disturbs the silence.
The sewage from the toilet containers and the waste water from the internal services of the caravans and campers must be thrown into the appropriate drain.
Do not damage the structure in all its parts. Do not take material owned by the structure outside the campsite. It is forbidden to light open fires or bonfires inside the campsite.
Small and medium-sized dogs are allowed upon confirmation of the management
Reservations are nominal and non-transferable. Those who are included in our black list cannot access the structure. Booking with another name involves the loss of the deposit. The cancellation of the reservation no later than 30 days from arrival provides for a refund of 100% of the deposit. In the event of closure due to Covid-19, the entire sum will be refunded without penalties.